McDonald's Japan is beefing up portions!
Americans are fat enough. And McDonald's certainly hasn't helped the situation by offering jumbo portions of cheap unhealthy foods. Yes—the company did away with its 42 oz "Supersize" soda after the movie Super Size Me debuted in 2004 (I made an appearance discussing growing portion sizes in the US.) The largest soda today is a 32-oz quart, called "Large." (This 32-oz "Large", by the way, was the same size of the original "Supersize" when first marketed in 1988.) As I wrote in The Portion Teller Plan, and in several academic papers with my NYU colleague Dr Marion Nestle, today's Large is nearly 5 times the original size soda, which was a mere 7 oz (no where to be found today), when McDonald's opened in the 1950s.
Well now, McDonald's Japan is beginning to supersize some of its menu offerings. As reported in the Wall Street Journal last week, in an effort to boost sagging sales, McDonald's Japan is introducing the "Big America2" series menu featuring several jumbo burgers named after US locales. The Idaho burger—containing beef, cheese, bacon, deep fried hash browns– set to debut at the end of January will contain more than 700 calories! McDonald's is hoping it's calorie laden burgers will be good for business.  As the authors Mariko Sanchanta and Yoree Koh write: "McDonald's is banking on oversized burgers stuffed with nachos, hash browns or chili."  And the company is going to use twitter and bloggers to spread the word.


Obesity rates in Japan are currently much lower than they are in the US. Pretty soon, however, if McDonald's Japan supersizes its other menu offerings, the Japanese may become supersized like us. Hopefully not.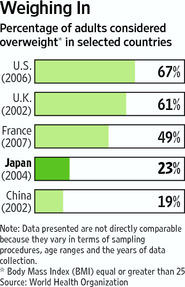 Here's a healthful tip: When in Japan, choose sushi, veggies, and brown rice!!
Tags: McDonald's, obesity, portion size, Serving size, Super Size Me, Supersize