Dr. Joanne Lichten, known as Dr Jo, recently released a new book Eat Out Healthy. In this terrific book, Dr. Jo guides the reader through  guilt free dining. She  discusses "meal specifics"–including pizza ,subs, entrees, and ethnic cuisine. She then visits your favorite restaurant (and the list is extensive) and guides you about how you can order without breaking your calorie bank.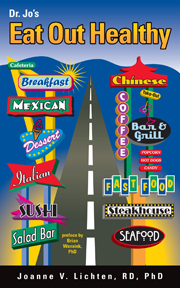 Dr Jo has also created a series of Eat  Out Healthy videos.
—Check out Eating Out Healthy at Starbucks:
http://www.drjo.com/2012/01/eat-out/eat-out-healthy-at-starbucks/
—And, check out Eating Out Healthy at Outback Steakhouse:
http://www.drjo.com/2012/03/general/eat-out-healthy-at-outback-steakhouse/
Enjoy and hearty appetite!! Dining out has never been easier, thanks to Dr. Jo.