USDA's new food icon: from Pyramid to Plate
Big news in the nutrition world. Yesterday, the Obama administration unveiled a circular plate as its new food icon to replace the Pyramid graphic we have known for nearly 2 decades. The plate is divided into wedges to represent the different food groups—fruit, vegetables, grains, and protein. It reflects what a balanced meal is supposed to look like. Fruits and vegetables take up half the plate. The dairy group is seen on the side much like a cup.
I watched as First Lady Michelle Obama, along with Surgeon General Regina Benjamin and Secretary of Agriculture Tom Vilsack, unveiled MyPlate at yesterday's morning press conference.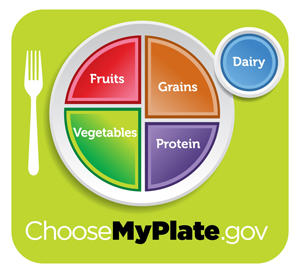 The government's website http://www.choosemyplate.gov/ provides extensive details on how to use the plate both for professionals and consumers. The new icon is designed to reflect the consumer messages from the 10th edition of the Dietary Guidelines which were released in January.
Balancing Calories
• Enjoy your food, but eat less.
• Avoid oversized portions.
Foods to Increase
• Make half your plate fruits and vegetables.
• Switch to fat-free or low-fat (1%) milk.
Foods to Reduce
• Compare sodium in foods like soup, bread, and frozen meals—and choose the foods with lower numbers.
• Drink water instead of sugary drinks.
.
Here's what I think of the new icon:
Good points:
The plate is very simple and easy to understand. Consumers probably can relate more to a plate than a Pyramid. After all, we usually eat off of a plate, not a pyramid.
It is easy for kids to understand and hence, is an investment in our future. Many children that I have counseled did not relate well to the previous pyramids.
MyPlate has a greater emphasis on fruits and vegetables than MyPyramid. With the new food icon, half the plate consists of fruits and vegetables, with the vegetable group being the largest wedge. This is an excellent message.
The food groups on the plate are not overflowing which conveys the message "avoid oversized portions." But of course, we need to make sure that our plate is not too big. Over the years, plates have gotten bigger and so have our waistlines. Take away message: In addition to the choosing the proper proportions of foods, we must watch plate size.
Pet peeves:
There is no food on the plate. I would have loved to see some healthy choices within each food group. I would have liked to see pictures of nutrient dense foods from each food group such as brown rice in the grain group and fish in the protein group.
The meat and alternatives group was renamed to protein. This is confusing: protein is a nutrient, not a food. The other 3 wedges—fruits, vegetables, and grains–are foods. The other issue is that dairy (a food group off to the side of the plate) and grains also contain ample protein in our diet. A 6 oz Greek yogurt, for example, contains more than 15 grams of protein.
Where's the protein? Below are some examples of how much protein is in various foods from the different food groups.
Protein (grams):
PROTEIN
1 oz meat/fish/chicken: about 7g
3 oz meat/fish/chicken: about 21g
1/2 cup beans: about 7g
DAIRY
6 oz Greek yogurt 16 g
8 oz yogurt: about 11-12g
2 oz cheese: about 14g
GRAINS
1/2 cup quinoa (cooked): 4.5g
.
Nonetheless, the plate icon is a marked improvement from the 2005 Pyramid. Obesity is a huge crisis in the US and let's hope that this new simple symbol helps to shape dinner plates around the country. Now, if we can get the restaurant industry to serve us a plate where half would be filled with fruits and vegetables that would be great progress.
Tags: Dietary Guidelines, Healthy eating, Michelle Obama, portion control, USDA